Jacques Callot
Nancy 1592 - Nancy 1635


Jacques Callot was born around 1592 in Nancy. Today he is considered a notable representative of late mannerism. The illustrator, etcher and copper engraver began his artistic path in 1607 as a goldsmith in Nancy. However, he couldn't be kept there for long. Already a year later, Callot moved first to Rome and later to Florence. In Rome, he apprenticed himself to the publisher Philippe Thomassin as a copy engraver. Jacques Callot began to practice copying the engravings of Flemish and Italian masters. He refined his copper engraving and etching techniques for pictorial effect.
In Florence, Jacques Callot worked in Antonio Tempesta's workshop and quickly made himself a name as an etcher. Around 1614, the artist joined Giulio Parigi's workshop, which was patronized by the Medicis. This is the beginning of long and successful work for Cosimo II de Medici. During this time as court artist, his first larger cycle was produced with the creation of 16 scenes from the life of Grand Duke Ferdinand I. Jacques Callot created his works in the style of mannerism with grotesque distortions. The spectrum of his subjects ranged from folk scenes, feasts and courtiers to beggars and cripples. "Die Drei Pantalone" [The Three Pantalone] (1618-20) were considered masterpieces from Callot's time in Florence.
In 1621, he returned to Nancy, where he was quickly able to establish himself at court as an artist. Jacques Callot began to prefer more serious motifs to his grotesque representations. From 1628-31, Callot lived in Paris and worked for Louis XIII. In addition he received commissions from the courts of France, Spain and Lothringen.
On March 24, 1635, Jacques Callot died at the age of 43 in the city of his birth, Nancy.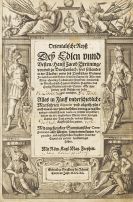 H. J. Breuning von und zu Buchenbach
Orientalische Reyß
2,220 $
Details